Bandit
The following was written by Bandit's loving mom in November, 2014:
Bandit was the biggest puppy of the litter. We asked if we could come get him. He was beautiful — 8 pounds at 5 ½ weeks old. He went everywhere from the time he came home until when he passed away. He went to the store, the pharmacy, drive-thrus, the vet, parks, and everywhere. He went to see friends, and he went on vacations. If there was a store he wasn't allowed in, my husband or I would wait with him while the other went in. He loved going to the vet. Everyone would go out of their way to come see him, and the girls who worked at the pharmacy would come to the drive-thru window to tell him hi.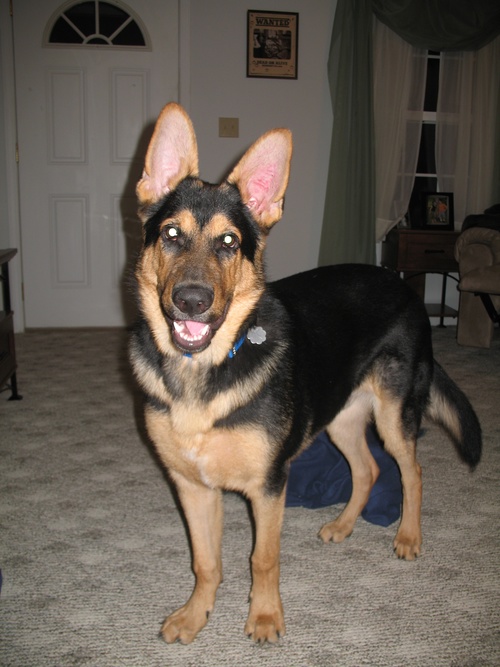 Bandit had multiple beds and toys for whichever part of the house he was in. His favorite food was ice cream. I always made sure we had Bandit-approved flavors in the house, and some nights we would go out for ice cream.
We found out that Bandit had severe aortic stenosis with an enlarged heart on the left side when he was seven months old. He went to see an intern cardiologist shortly after that. His regular vet was Dr. Kim. She changed his medicines to see what worked best for him. He also drank Pedialyte every day to help replace electrolytes. He was very picky about his flavors, and we had to order some flavors from Abbott because local stores didn't carry them. If something worked for someone else, it did not work for us. As long as he had his medicines on time, he could drag you down the road and back. He was always so full of energy and life.
Bandit went to a cardiologist every year. The last year he was here, he went to see an amazing cardiologist — Dr. Pyle in Christiansburg, Virginia. We live in Tennessee, and it was a long trip. We had previously met Dr. Pyle at UT animal hospital while he was filling in for a cardiologist who was out. The second time Dr. Pyle saw Bandit, he had greatly improved. He was officially out of congestive heart failure. That was the first time I had left a cardiologist appointment happy. I cried because Bandit was doing so much better.
That was in April 2012. In June 2012, Bandit passed away. Bandit's dad had come home from work. They played, checked the mail, and waited for me to get home to go get food. Bandit passed away on the way to the store that night. We did everything we could, but it was not enough. We love and miss him. He was our baby.
We want to make a donation in Bandit's name. We hope that others will make donations to help other furry babies.