Layla
This article was written by Alanna Tritt, a writer volunteering with BHF. We are so grateful for her talent and initiative! Find out more about her here.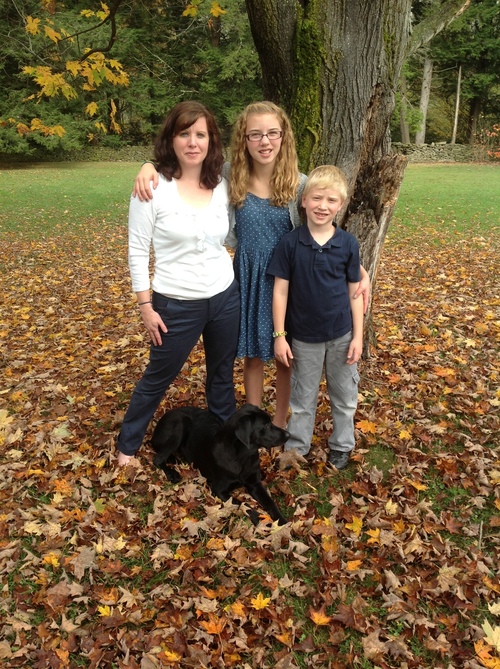 Take a look at the picture above. That little puppy sitting at the family's feet has such energy. She is alert, eyes fixed on some exciting thing in the distance, the epitome of puppy energy. From the photograph, it would be impossible to guess that the puppy, Layla, suffered from a heart condition, or that her family adopted her specifically to take care of her.
Layla was a puppy with a problem. She was diagnosed with a PDA, or patent ductus arteriosus, when she was quite young. Erin, the adult in the picture above, heard about her condition. She saw a vulnerable animal who needed extra care, and began thinking. Those thoughts eventually led her to adopt Layla and start a fundraising campaign to help fund curative surgery.
We asked Erin to describe her family's journey, from initial decision to post-surgery, and share any advice she might have for other families in similar situations.
When she heard about Layla, Erin did some research into the heart condition and considered it deeply. "It is very important that you research the medical condition and exhaust all possibilities of funding support as well; veterinarian medical expenses quickly add up," she said.
Once she felt informed, Erin spoke to her family, including her children: Shannon, eleven years old, and Thomas, eight. They had wanted a puppy for some time. "I feel it is imperative to be honest with children at a developmentally appropriate level. Educate them and yourselves and do not make any promises. There are no guarantees. However, that being said you must have hope and follow your heart."
Erin is a licensed social worker and a behavior therapist, so communication is important to her. She said, "I talk to my kids A LOT! We have had the great misfortune of dealing with chronic health issues due to my mother's passing of cancer five years ago, so they are all too aware of how fragile life is."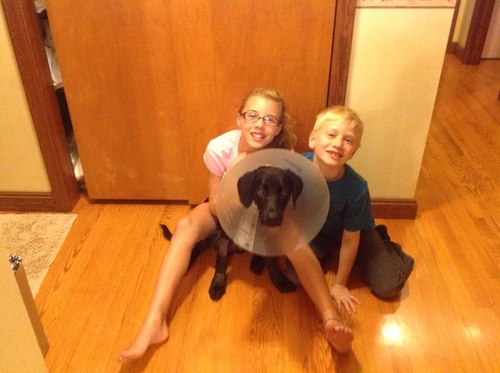 "I told the kids that I knew of a puppy who needed someone to care for it because it had a heart problem," Erin said, "I told them that I felt she needed us and that we would try our best to help her in any way we could, but regardless we would love her for as long as she lived." After deliberation, the family decided to welcome Layla into their home.
Not everyone understood at first. "There were many people who questioned my sanity when they heard that I was willingly rescuing a dog with a congenital heart defect," Erin said, "including my husband!"
Layla's condition meant that she wasn't able to play like other puppies. Shannon and Thomas understood this. "They respected that she needed rest because her heart was working so hard," Erin said.
Shannon and Thomas stayed involved throughout the treatment process. They attended the vet appointments, and still continue to care for her after her surgery. "To this day both of the kids make sure to give Layla her medicine at dinner," Erin said, "and they are good about making sure she has water and is not over exercised."
The entire family participated in the fundraising campaign for Layla's surgery. "The local animal shelter, True Friends, allowed [us] to raise money taking photos at Woofstock in August. My husband really got involved and made a creative back drop for the event."
The event went well. Erin said, "I was humbled by the outpouring of love and support from the community. I not only made $500 for her medical fund that day; I also made lasting connections with people who are passionate about animal welfare and taught my children an important lesson about advocacy…." In fact, she is considering raising funds for another animal at next year's event.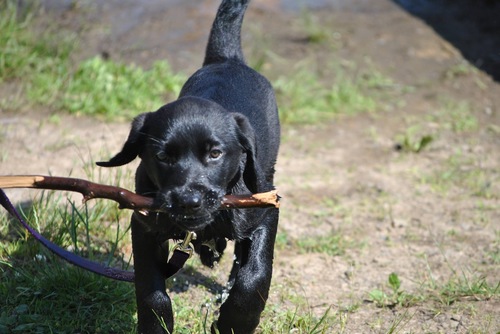 Erin and her children agree that this has been an important experience for them. "I recently saw a bumper sticker that had a picture of a dog on it and the words 'who rescued who,'" Erin added, "When I saw it I was immediately moved to tears. Loving Layla has been a tremendous blessing for our family."