Tiny
The following was so beautifully written by Tiny's foster Mom, Vanessa, that we decided not to change a thing before publishing it. Please read, enjoy, and donate if you can!
…
"Tiny had been wandering the streets of Los Angeles. She was 5 years old, abandoned, cold, and hungry. She had never been spayed, had no microchip or identification, and had a very severe heart murmur.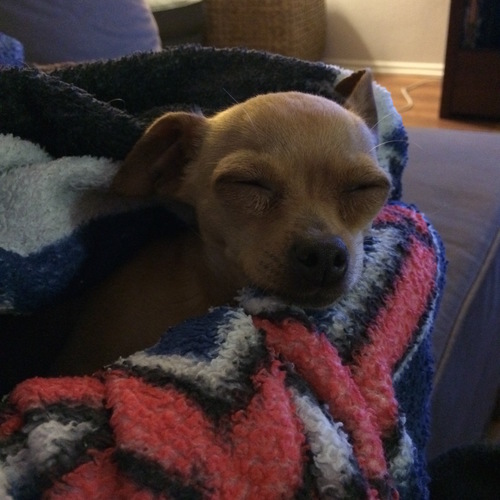 One day she was saved from her life as a homeless pup and taken to a shelter. Day by day people would gaze adoringly into Tiny's small cage and day by day, those people would leave with other dogs- younger dogs, bigger dogs, and Tiny remained. It seemed Tiny was destined for death row, but as luck would have it, Tiny was pulled from her fate by a special rescue. This rescue is where Tiny's heart condition was discovered, and where Tiny would be given a second chance!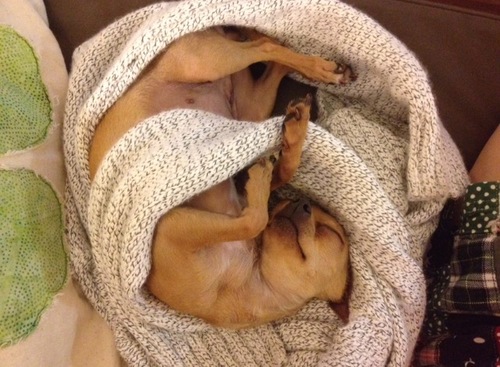 While Tiny was at this rescue, she quickly won the hearts of all the staff and volunteers with her spunky nature and puppy kisses. Most would agree she is not the typical Chihuahua based on how friendly she is. As her foster mom puts it, "Tiny is a big dog in a small package."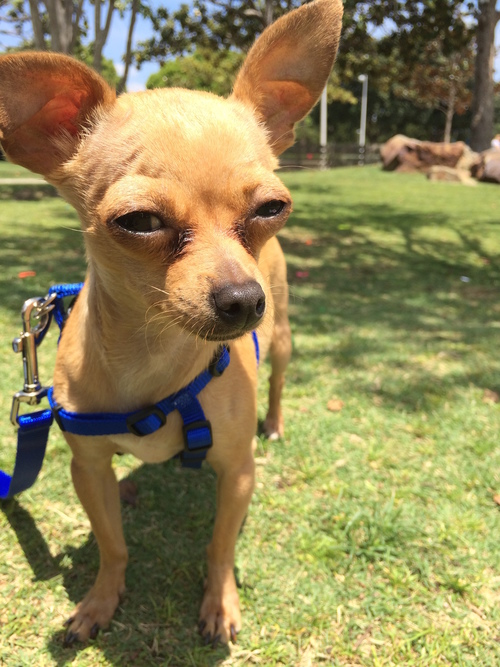 One Saturday afternoon, Tiny chose her future foster mom: a nurse, Vanessa who had recently moved from Boston and was in need of a good friend. The four-pound chihuahua stood on her little hind legs, put her front paws against the glass and gave her smiling eyes a flutter right at the unsuspecting nurse. After that, Vanessa found herself outside Tiny's cage a few times a week. It quickly became an after work treat for Vanessa- she would get to look forward to "Tiny Time".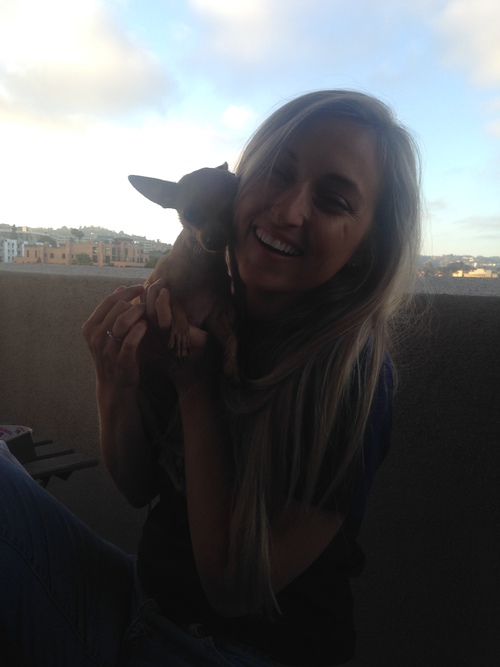 An ultrasound was eventually performed on Tiny and her heart murmur ended up being the result of something called a Patent Ductus Arteriosus (PDA). This is a hole in the heart/vessels and will lead to heart failure and premature death if not treated. This calls for a very expensive surgery, which made Tiny a special adoption case. Vanessa started fundraising and eventually scored herself a new roommate: Tiny!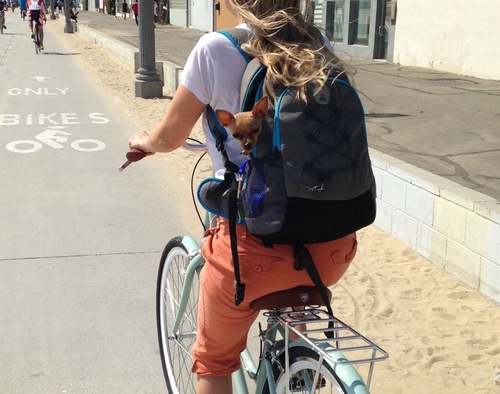 Vanessa and Tiny are now a package deal. Their favorite activities include napping, eating snacks, bike riding, taking walks, and more napping. Tiny has inherited Vanessa's backpack, and enjoys hanging out in the backpack even when they are home. She especially loves the backpack when they are bike riding! Tiny has also inherited most of the bed, and all of the blankets at night. (Vanessa is still trying to figure out how this phenomenon happens!) Vanessa is also trying to figure out how so many dog treats end up in her shoes and couch. In the end Tiny is a great roommate to Vanessa, and Vanessa is a great foster mom to Tiny. They are waiting patiently to book Tiny's surgery, although time is not on their side and the matter is considered urgent per the veterinarian. Any help is greatly appreciated!"