Pepper
February 6, 2013 – PEPPER UPDATE!
Pepper underwent a balloon valvuloplasty yesterday and is doing great! Her valve pressure went from 170 to 60 (this is a very good thing)!!
Pepper has several days of rest and recuperation ahead of her, but this is a great start to a new life for this adorable pup!
The following was written by Pepper's foster mom, Victoria:
Pepper is a very small (11lb) schnauzer or schnauzer/Yorkie? mix. She was turned into the St. Louis County Animal Control because her owner did not want her anymore. The animal control people transferred her to the St. Louis Senior Dog Project. She is about two years old and just precious.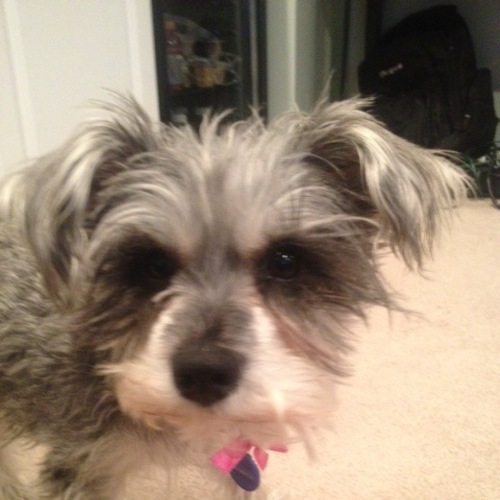 This curious, potty trained, loving and opinionated girl was very busy. But there was something wrong. When her foster parents would come home, she would pass out for about 25 seconds. The she would pop back up and run off. The pound she came from thought she was seizuring, but it turned out to be worse than that.
Pepper was diagnosed with Pulmonic Stenosis, a severe right sided heart disease. She was passing out from lack of oxygen to her head when she got excited. Without surgery, she will eventually succumb to one of these episodes, probably in the next year.
More bad news followed. The surgery was about $2500.00. But as a foster dog, Pepper did not have any one to advocate for her. Her foster organization could not afford the surgery. Pepper did not know she is sick and was moved to a quieter household for hospice to minimize the episodes and wait to see what could be done for her.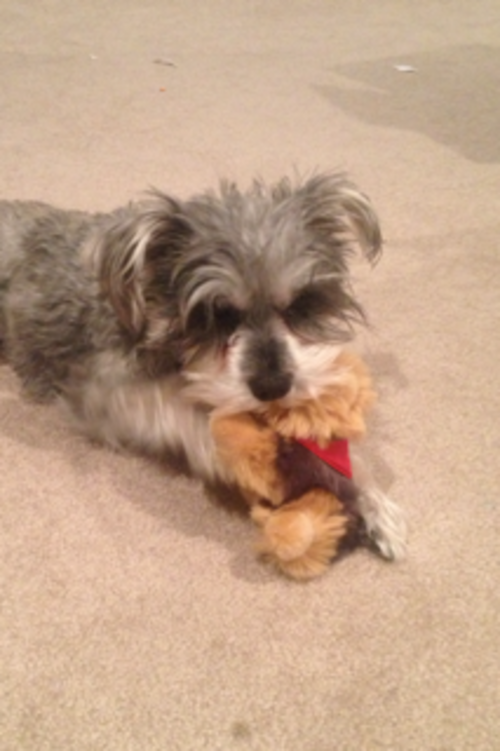 The 11 year old daughter at the foster home could not see letting Pepper die. She started a fundraising campaign called Change for Pepper (see her story). Sydney and her friends put baby bottles in bars and shops where they lived and collect the change to donate towards Pepper's surgery. Sydney's dedication and Pepper's spunk made a perfect pair and they have raised the bulk of the money with the help of the St. Louis Senior Dog Project. People have been wonderfully generous.
The Big Hearts Fund recently awarded Pepper money for her surgery, but she is still about $500.00 short. We are hoping to make part of that up through this page and, of course, the 6th grade girls are still out there collecting for her. Pepper's surgery has been scheduled for Monday, February 4 and after that she has 4 to 6 weeks of recovery before she can be her spunky, curious self again.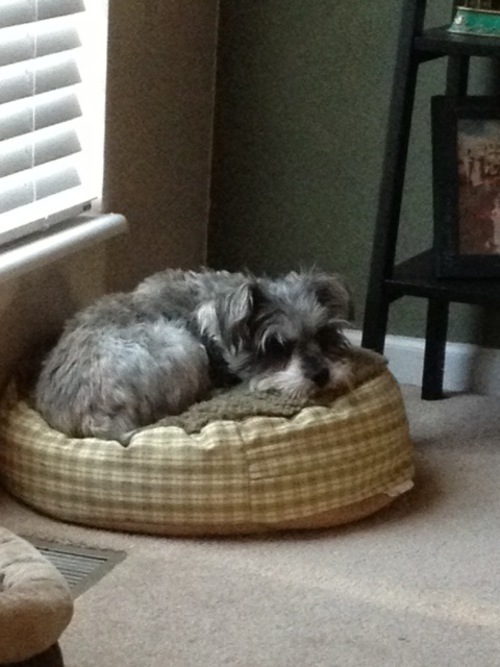 We hope that you will consider helping Pepper.